Stark Snow Blower Attachment Chute Self Propelled Steel Auger Compatible with 61026
1 customers are viewing right now
$60995 $72995
---
We have run out of stock for this item.
Features

Convenient one-time Installation through mounting bracket attachment.
High-speed impeller for efficient snow propulsion.
Precise control over snow discharge, with adjustable pitch and deflector pitch control.
Built to last, ensuring reliable performance in harsh winter conditions.
Clear driveways, lots, and streets with confidence while prioritizing safety and convenience.
Specifications

Set of 1
Color: Yellow / Black
Material: Metal
Compatibility Model: Stark item# 61026
Fitting:
Overall Dimension:
WHAT'S SPECIAL ABOUT THE
Stark Snow Blower Attachment
Stark Snow Thrower, a winter workhorse meticulously engineered to conquer snow's most challenging obstacles. This blower head, designed to work seamlessly with Stark 61026 Power Sweeper, boasts a Bucket Width of 22 inches, a Bucket Height of 22 inches, and a Snow Ejection Range spanning from 32.8 feet to 39.4 feet. Its Chute Rotating Angle of 190 degrees ensures efficient snow ejection. With straightforward installation through mounting bracket attachment to the tractor frame, effortless adjustment of the snow thrower from the tractor seat enhances convenience and efficiency. Delivering durability and precise control over snow discharge, this snow thrower guarantees reliable performance in harsh winter conditions. Investing in Stark means choosing quality, performance, and the assurance of maintaining clear driveways, lots, and streets while prioritizing the safety and convenience of others.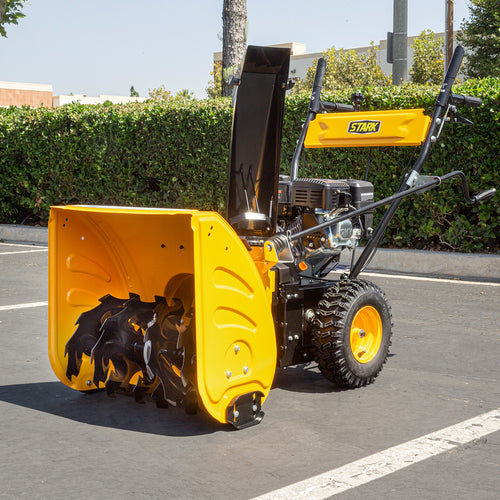 NEED HELP?
Our Customer Support is Here for you
Count on us for swift and efficient customer support. We're committed to addressing your return requests within 48 business hours, ensuring a seamless experience.